All about SHRADS
Severn Vale Historical Research And Detecting Society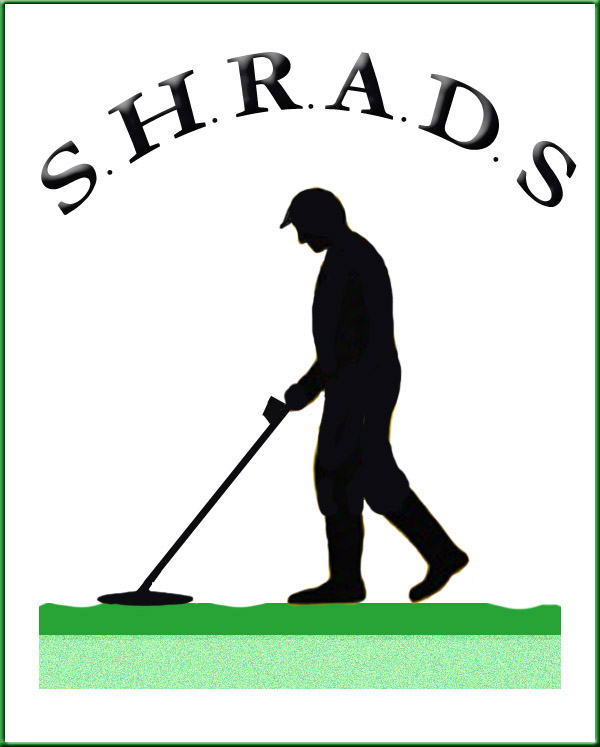 The club was formed in Thornbury in 1979 by a group of enthusiasts who were interested in how metal artefacts found on local farmland related to local history. Initially this was with the support of the Berkeley Estate and its farmers, but has expanded over the years to cover a much wider area.
Searches are arranged each Sunday starting at 10am on farmland where permission has been obtained, on a rota basis. This usually means two or three visits per year, but is varied to fall in with the wishes of the individual farmers. For example some farmers like to limit the numbers searching, but perhaps with more frequent visits. On each visit the club will check which fields are available to search on that day.
Membership numbers for SHRADS are limited, which means that all members will have demonstrated their interest by spending up to two years on a waiting list. SHRADS has established a very good reputation amongst local farmers for the conduct of their detecting activity, which they are keen to preserve. New members serve a monitored probationary period before having their full membership confirmed. All members are required to observe club rules and the code of conduct at all times.
SHRADS is affiliated to the NCMD (National Council for Metal Detecting) and has incorporated into club rules the Code of Conduct for responsible metal deteceting drawn up by the NCMD in discussions with all the interested parties (landowners, farmers, museums and archaeologists, DEFRA etc). As members of NCMD, SHRADS members are covered by the NCMD &pound 10 million Civil Liability policy when detecting. Additionally all SHRADS members agree in writing that they detect at their own risk.
A monthly newsletter for members, farmers and landowners includes lists of finds made by members on club sites during the previous month and the schedule of planned visits for the next two months. Whilst finds of high value or major historical importance are rare, the farmer and landowner are personally informed immediately they occur. (The Finds Liaison Officer funded by the Portable Antiquities Scheme (PAS) regularly attends SHRADS monthly meetings to records items of interest and provide an advice and identification service). Where a find of value or an award by the Government established Treasure Committee is involved, the usual arrangement is that each party (Finder, farmer and landowner) share equally in any benefit.
SHRADS always welcomes new opportunities to search and reveal the hidden history beneath your fields. The Site Officers would be pleased to discuss this with you. Please see the contacts page for more details